A Company will have one or more Devices. Each Device will have one or more Backups Jobs. Each Job will have one or more Logs.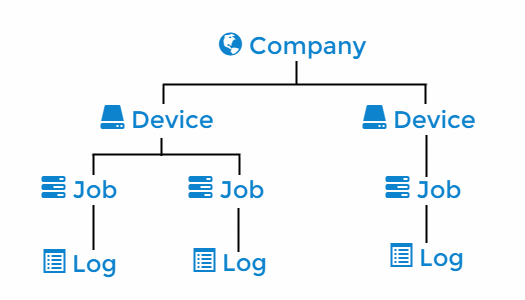 Company
Assuming that you have a CleverFox Backup account, then the Company is you. The company is also where you access the Billing Portal to view statements and update your payment method.
Only an Account Owner can modify the Company Information or access the Billing Portal.
User
Are the people that can access your CleverFox Backup account.
Only an Account Owner can add or delete users.
Subscription
Is the backup plan that you are currently signed up for.
A plan can be changed or canceled anytime.
Modifications can take effect immediately or at the next billing cycle.
Cancellations only take effect at the next billing cycle.
Only an Account Owner can cancel or change a plan.
Device
Are the PCs that will be backed up.
Use the Download Agent button to download and install the CleverFox Backup Agent.
Job
Is how you schedule a backup.
Every Job can have one or more items (i.e. Folders, Databases) that need to be backed up.
Every job has a schedule (Daily, Weekly, Monthly, or One Time) when it should be performed.
Every job has a retention policy that is used to automatically delete old backups.
Log
Is the history of every backup job.
View when the Job started, when it completed, and the results (Failed, Missed, or Completed).
View what was backed up, the total number of files, and the total size of all files.
Has links for downloading the backup.
CleverFox Backup Agent
Is a Windows Service that is installed on each Device. The CleverFox Backup Agent runs completely in the background, regardless if the user has logged on the PC.
Automatically updates itself when a new version is released.
Requires Microsoft VC++ 2010 and Microsoft .NET Framework 4.0.
Can be installed on any hardware that runs Windows XP SP3 (or newer) or Windows Server 2003 SP2 (or newer).